Exhibits

Community Room
Mural by André Blanché (part of La Quinta Art in Public Places Program). Dorothea Lange photo gallery of Coachella Valley images.

Lincoln's Scout: Diary of Horatio Cooke, Soldier, Spy, Escape Artist – August 9 through December 31, 2022
Lincoln's Scout: Diary of Horatio Cooke, Soldier, Spy, Escape Artist Opening August 9. The year was 1981, and author M. R. Cannon was performing a magic show in nearby Yucaipa, California, when things took an unexpected and fascinating turn. An 85-year-old audience member, Clara Louise Wasem, took over his show and captivated the audience with tales of her father, Professor Horatio G. Cooke, the American Wizard, who had been a Special Scout for Abraham Lincoln, an escape artist and Spiritualism debunker, and a mentor and friend to Harry Houdini. Clara Louise gave the author Cooke's diary and meticulously kept scrapbook with a charge to share her father's amazing story. Experience Cooke's extraordinary life in this new exhibit!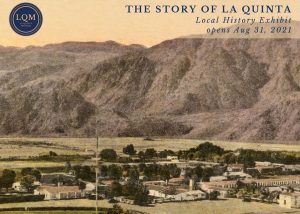 Local History Gallery
Enjoy our newly expanded local history exhibit! Dive into the stories of your city, from the original stewards of the land, the Cahuilla, to the homesteaders, ranchers, and dreamers looking for a desert oasis.

Making A City: 40th Anniversary Exhibit
As the 1980s began, the community of La Quinta was facing considerable growth coupled with a lack of services. Fred and Kay Wolff formed the Task Force for Incorporation and launched a grassroots campaign to secure the votes needed to turn "the Gem of the Desert" into an official city.