Programs
It's Your Library. Enjoy FREE programs for all ages!
View all

Special Events
The La Quinta Library is committed to encouraging lifelong learning by providing the people of our community with safe, no-cost activities for educational growth and recreational fulfillment. For the full complement of programs and events, check out our Facebook events page.
View all

Services
Click on an image below to view more information about our services.
If you have a reference question, you may ask it through this free e-mail service offered by the Riverside County Library System. You will receive a response within three days, with the vast majority of questions answered in less than 24 hours. If you need an immediate response, please call one of our libraries directly.
Riverside County Library System Adult Literacy Program provides adult literacy services to our communities through one-on- one literacy tutoring, English-as- a-Second- Language classes and family literacy events.
The Riverside County Library System has received a Library Services & Technology Act (LSTA) Grant to establish a Veterans Resource Center, a resource dedicated to helping veterans and their families.
Riverside County Library System, in partnership with the California State Library and Gale, part of the Cengage Learning, offers adults the opportunity to earn an accredited high school diploma and career certificate online through Career Online High School.
Do you participate in your want to start your own book club?
Visit the library to get started!
"Book Club in a Bag" contains everything you'll need for your next book club meeting:
5 – 10 copies of one title
Instructions
Author Biography
Discussion Questions (when available)
Group member sign up sheet
Hand-picked suggestions for people in a hurry.
Want to read more books but don't have time to search the Library? Let us help! Fill out our short form letting us know what types of books you enjoy and we'll select three books and have them ready for you in three days (excluding holidays).
Forms: For ages 12 and under – For ages 13 and up
Create miniature billboards that light up with your own special message or make a top hat, brooch or lapel pin at Maker Craft programs offered in February at the Creation Station at the La Quinta Library.
"Ant Man's Billboards" on Saturday, February 4, offers all ages the opportunity to create a small lighted billboard with serious to funny messages or an advertisement for a made-up business or product.
On Thursday, February 9, a visit to Professor Verne's corner will give you skills to make a mini top hat while at Miss Ada's studio you can learn to make a clockwork brooch or lapel pen inspired by Steampunk literature.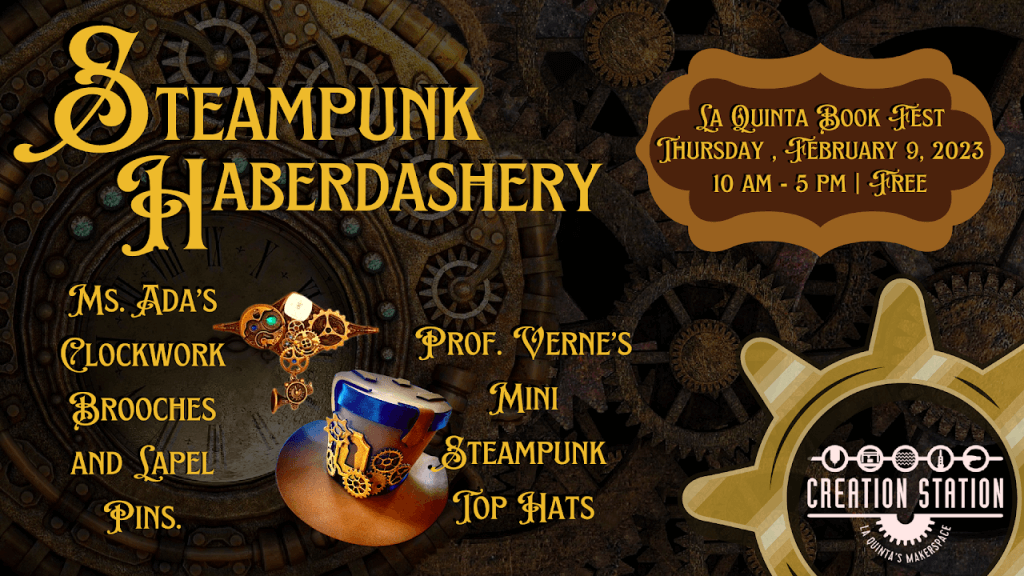 The "Steampunk Haberdashery" is open to all ages but is recommended for 6 years and older. This program ties into the La Quinta Book Fest, February 6-11 at the La Quinta Library.
"Ant Man's Billboards" and "Steampunk Haberdashery" are free. Both programs are scheduled to be held from 10 a.m. to 5 p.m., or while supplies last.
Creation Station is a membership-based MakerSpace program offered in partnership with the City of La Quinta and the Riverside County Library System. The program is inside the La Quinta Public Library and is for hobbyists, students, and educators. Classes and workstations for 3-D printing, laser cutting, computer aided design (CAD), electronics components and soldering, sewing, hand tools and more.
---
For more information about Maker Craft and MakerSpace programs and events, Creation Station and the La Quinta Library, visit www.PlayInLaQuinta.com, email lqmakerspace@laquintaca.gov or call (760) 777-7088.
Register now for the La Quinta Public Library's fourth annual Book Fest, being held February 6-11.
The weeklong celebration will feature a special book club, a writing workshop, an author panel discussion, goody bags, prize giveaways, and more.
The event, held at the La Quinta library, is open to anyone 13 and older and kicks off with the Book Fest Book Club at 5:30 p.m. on February 6.
Scheduled to participate in the February 11 panel and book signing, from 10:30 a.m. to 2:15 p.m., are:
Judith F. Brenner, author of the novel "The Moments Between Dreams," and five non-fiction educational books. Brenner is also a short-story contributor to Minnesota Stories anthology.
Naomi Hirahara, author of the "Mas Arai" mysteries and the historical mystery, "Clark and Division." Hirahara has also written numerous nonfiction history books and a middle-grade novel, "1001 Cranes."
Julie McElwain, author of "The Kendra Donovan" series, a genre-bending time-travel/mystery series. McElwain's first novel, "A Murder in Time," which was followed by "A Twist in Time," "Caught in Time," "Betrayal in Time" and "Shadows in Time."
Abdi Nazemian, author of "The Walk-in Closet," plus three young adult novels, "The Authentics," "Like a Love Story," and "The Chandler Legacies."
Book Fest events are free, but advance registration is required and can be done online at www.sites.google.com/view/lqbookfest/registration.
For the full schedule, announcements, FAQs, and more, visit https://bit.ly/laqbookfest.
---
More information about the fourth annual Book Fest and other La Quinta Public Library events can be found at www.PlayInLaQuinta.com.
Support your local library
Become a Friend of the LQ Library
Join your friends and neighbors who believe in the La Quinta Library and its importance to the community with an annual Friends membership of only $10/individual, $15/family, or $25/corporate sponsor!
For more information about the Friends of the La Quinta Library, including current board members, perks of being a Friend, as well as other opportunities to support the library, please email them at FriendsLaQuinta@Live.com or check out their Facebook page at fb.me/FriendsLQLibrary.
In addition to being a Friend of the La Quinta Library, you can help in other ways by:
Visiting the Friend's bookstore in the library for amazing deals on a wide assortment of books
Volunteering at the bookstore or at any of the Friend's sponsored programs within the library
Reaching out to them with any unique ideas you have to support our wonderful La Quinta Public Library's commitment to the community
*The Friends of the La Quinta Library is a chapter of the Friends of the Desert Libraries, a 501 c(3) organization.