11 Must-See Art Pieces in La Quinta
December 8, 2021
It may not be known by most, but over the years the City of La Quinta has morphed into a prestigious art town! But, it didn't happen overnight. La Quinta has accumulated many unique pieces of art and has showcased them throughout their city. The city even hosts the Annual La Quinta Art Celebration, which was held just last month and is expected to return in March 2022. Let's take a look around town and explore eleven must-see pieces of art that have been created by artists around the world for our City!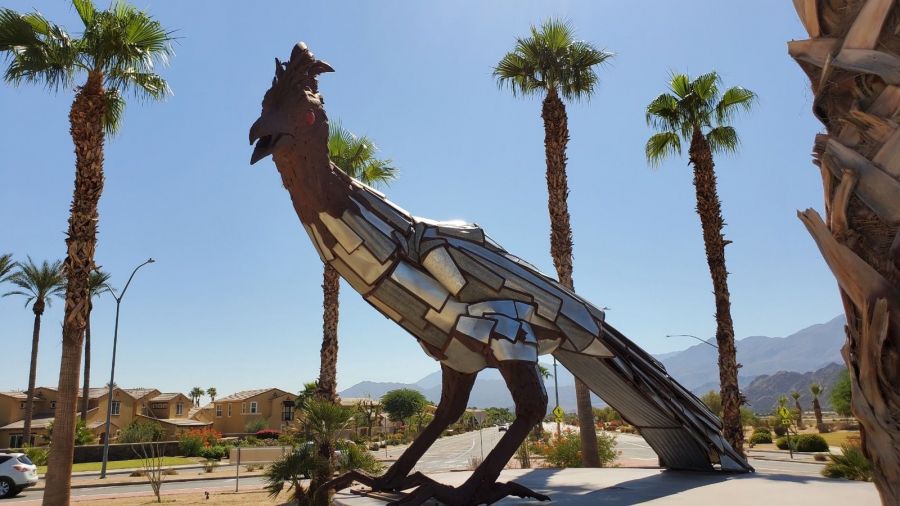 This giant 12-foot by 18-foot-long roadrunner sculpture created by Don Kennell was first brought to the desert back in 2014 for the Coachella Music and Arts Festival. Coachella is a huge music fest where approximately 125,000 people from all over the world come together to enjoy live performances from their favorite artists while also experiencing unique pieces of art exclusive to this event. After the 2015 festival, the City of La Quinta chose to obtain the bird sculpture from Goldenvoice which they positioned at the center of the roundabout on Avenue 52 and Jefferson Street.
https://www.donkennell.com/

Opal Drops are unique and beautiful one-of-a-kind glass-shaped art pieces created by Marcus Thesing, which have been featured at the La Quinta Art Celebration. It was purchased by the City in 2020 and can be seen at La Quinta City Hall. https://marcusthesing.com/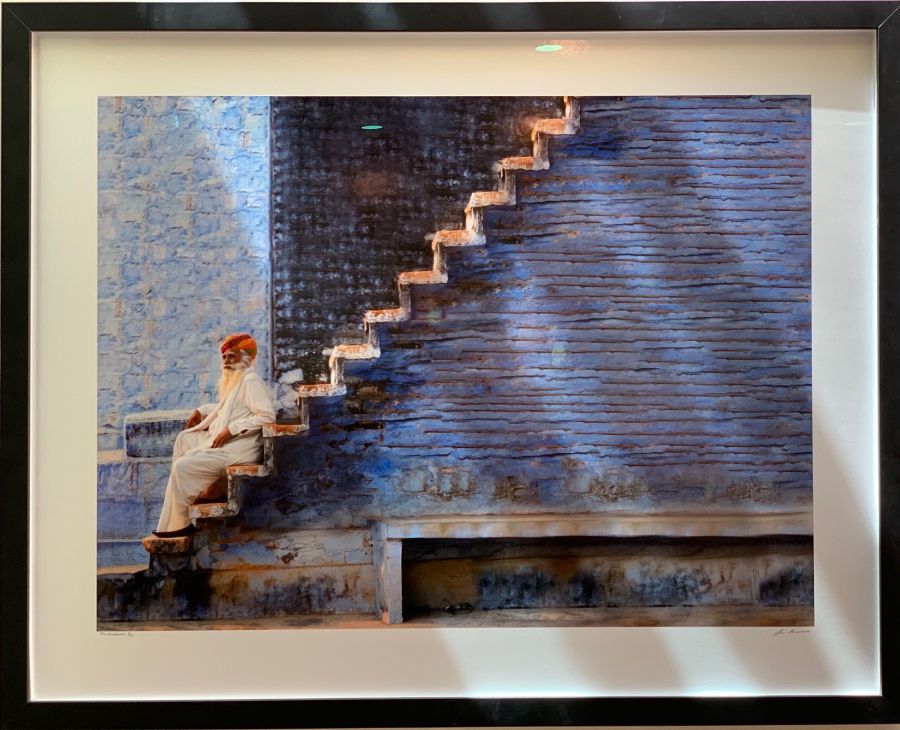 The Guardian is a photograph of a man sitting on stairs who is "guarding" a building. The artist, Lisa Kristine, was inspired by the City of Jodhpur, India. It was there this internationally recognized fine-art photographer, humanitarian, activist, and speaker thought to capture this moment of a man and turn it into an incredible piece of art. This artwork can be found at La Quinta City Hall. https://lisakristine.com/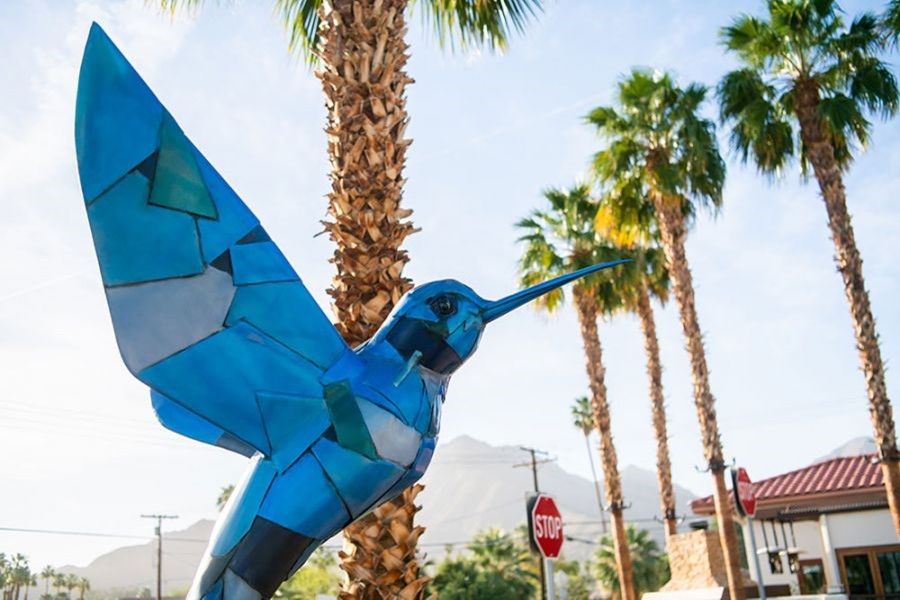 The Colibri is a huge hummingbird sculpture made by Don Kennell with DKLA Design. DKLA's designs are meant to draw people in to develop a relationship between art and its location. This synergy is significant to DKLA's mission and they believe the goal of public art is to bring art into peoples' lives. This art piece can be found at Desert Club Dr. & Avenida La Fonda's art pedestal. https://www.donkennell.com/
Bloom is a mural created by a nationally acclaimed graduate of Los Angeles' Otis College of Art and Design, Nate Frizzell. Frizzell's work has drawn international acclaim. His stirring narratives pay tribute to primal emotions of the wild at heart, and they often portray faces hidden but emotions nakedly exposed. This mural can be found at the intersection of Fred Waring Dr. and Adams Street. https://www.natefrizzell.com/

Desert Legacy is a bronze sculpture made by Marie Barbera. She is one of the world's foremost sculptors of American Indians and is known for her figurative, wildlife, and equine sculptures. Desert Legacy was acquired by the city in 2014 and is currently installed on the Eisenhower Dr. & Avenue 52 roundabout. https://mbarbera.com/about/

T-Rex is a metal sculpture of a dinosaur made by Ricardo Breceda who found his passion for crafting metal after his daughter saw Jurassic Park and wanted a dinosaur of her own. The rest is history! This sculpture was acquired by the City in 2016 and is currently installed at the La Quinta Public Library.

Desert Elements #7 is a painting that uses many different mediums from oil, acrylics, and occasionally found objects. The creator, Dennis Nagatini, is an award-winning artist whose paintings grace the collections of discerning collectors throughout various parts of the world. Each medium represents a desert and each idea is manifested in its own individual style. The City purchased this art piece at the 2015 La Quinta Art Festival and it can be seen at La Quinta City Hall. https://dennisnagatani.com/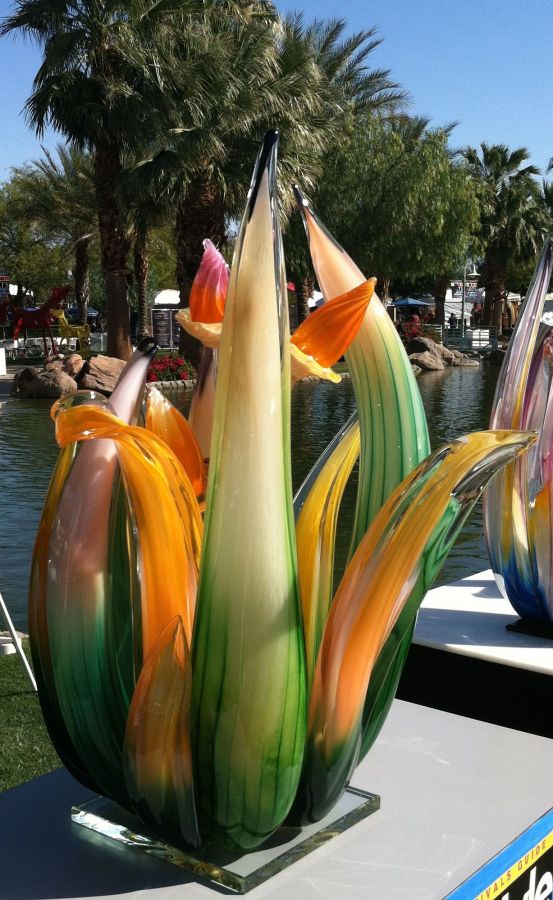 Desert Cactus is high-quality glasswork that reflects the different seasons with interchangeable flowers. This glasswork is made by Randy Strong, who has dedicated his life to pushing the limits of hot glass and developed a style that cannot be found anywhere else. This art piece won Best in Category, at the 2012 La Quinta Arts Festival and can currently be found at La Quinta City Hall. https://www.rstrong.com/

Grace and Milo is an incredible art piece of two human-like twinkling floating figures made by Michael Gard which was created using a wire weaving technique he invented as a teenager. Grace and Milo were purchased during the La Quinta Art Celebration in 2019 and can be found at the La Quinta Wellness Center. http://www.michaelgard.com/?fn=GALLERY

Leader of the Pack is a wildlife sculpture created by Jason Napier, whose wildlife sculptures are uniquely recognizable, collected & revered around the globe. His work takes a distinctive style that exudes emotion and expresses the whimsical spirit of every subject. This unique piece of art can be found at the La Quinta Civic Center Campus. https://napierbronze.com/
We've given you a personal tour around the beautiful City of La Quinta and have introduced eleven unique and remarkable pieces of art that you can find here. Art is very personal and speaks differently to everyone. Take a moment to embark on your own art adventure in La Quinta, California to find what most inspires you!