3 months of Sports, Art, Parties and Music.
January 6, 2017
January kicks off a 3-month stint of nonstop action in and around La Quinta. With events like the Career Builder Challenge, the 19th Holy Block Party, 35th La Quinta Arts Festival, Rhythm Wine and Brews, BNP Paribas Open and Desert Youth Olympics you can't skip a beat. So, here's the low down on some of these fantastic events. If you're looking for a place to stay, check out some of the La Quinta vacation rentals available.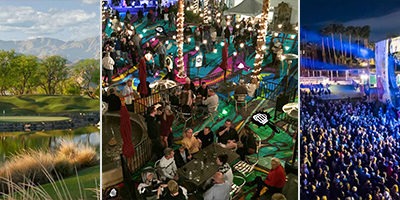 Career Builder Challenge
The Career Builder Challenge is one of the premier golf tournaments in the country and what better place to see if than beautiful La Quinta. Running from January 18-22 you can get all the golf, fun and sun you can handle. To top it off, on January 21 the day will finish with a live performance from Fitz and the Tantrums.
The 19th Hole Block Party
The City of La Quinta & Coachella Valley Art Scene will host the second annual 19th Hole Block Party on January 20th from 6 to 10 p.m. in Old Town La Quinta. The block party is being held in conjunction with the Career Builder Challenge, which takes place January 18 through the 22. Old Town La Quinta will play host again as the block party will feature music, food, art, car experience, games and more.
Rhythm Wine Brews Experience
On March 4 at the Empire Polo Fields, another year brings us another Rhythm Wine Brews Experience. With musical acts like Snoop Dog, Pepper and The Expendables, this is sure to be another hit in the Desert. Breweries, wineries, food and art make this a must go for all. Follow us on social for contest ticket giveaways.
35th La Quinta Arts Festival
The La Quinta Arts Festival is back for its 35th addition. The event will be held at La Quinta Civic Center Park from March 2-5. This award-winning event will be packed full of art for every taste and type. They will also have live entertainment, delicious food, wine and beer. Follow us on social for contest ticket giveaways.
BNP Paribas Open
The BNP Paribas Open held at the Indian Wells Tennis Gardens will be from March 6-19. This one of a kind event gives you access to see competition from some of the greatest tennis players in the world. the BNP Paribas Open is the largest two-week combined ATP & WTA professional tennis tournament outside of the four majors.
La Quinta is a nonstop event spot during the start of the year and these events just scratch the surface. Check out our events calendar for all to do year-round in sunny La Quinta, California.