New LQ Museum Exhibits
January 23, 2023
Museum exhibit showcases Hollywood trailblazer and La Quinta resident Dorothy Arzner.
La Quinta has long been a destination for Hollywood celebrities, many of whom have made their homes here.
Among them is Dorothy Arzner, the only woman director during the Golden Age of Hollywood, who to this day has the largest body of work of any woman director.
She was also a film instructor, and one of her students was Francis Ford Coppola, who made a small batch of whiskey in her name as a tribute to her.
Arzner ultimately built a home in La Quinta that she shared with her partner, Marion Morgan. Arzner died in La Quinta on October 1, 1979. She was 82.
The La Quinta Museum turns the spotlight on the Hollywood trailblazer with a new exhibit, "La Quinta Legend: Dorothy Arzner," which opened on January 17. Among the items displayed is a bottle of Dorothy Arzner Straight Rye Whiskey and quotes from a speech Coppola made during a ceremony honoring Arzner.
Arzner was born in San Francisco in 1897 and grew up in Hollywood where her father was a restaurateur. Her work in the film industry started with her typing scripts for the Famous Players-Lasky Corp., according to a piece written by Allyson Nadia Field for the Women Film Pioneers Project.
From 1919 to 1943, Arzner worked as a director, editor, film cutter and screenwriter. Fifteen of those years were spent as a director.
Among the movies she directed was Paramount's first sound picture, "The Wild Party" (1929), starring Clara Bow. Other films she directed included "Honor Among Lovers" with Claudette Colbert; "Christopher Strong" with Katharine Hepburn; and "Craig's Wife" with Rosalind Russell.
"Arzner today remains the most prolific woman studio director in the history of American cinema," Field wrote in her piece for Women Film Pioneers Project.
"La Quinta Legend: Dorothy Arzner" is one of two new exhibits to open this month at the La Quinta Museum.
"In the Fields of the North / En los Campos del Norte," a traveling exhibit displayed on the library's downstairs gallery, is a series of photographs accompanied by oral narratives by photographer and journalist David Bacon.
The exhibit, produced in partnership with the California Rural Legal Assistance and the Binational Front of Indigenous Organizations, is presented in English and Spanish.
"In the Fields of the North / En los Campos del Norte," is traveled by Exhibit Envoy, and is on display through April 15.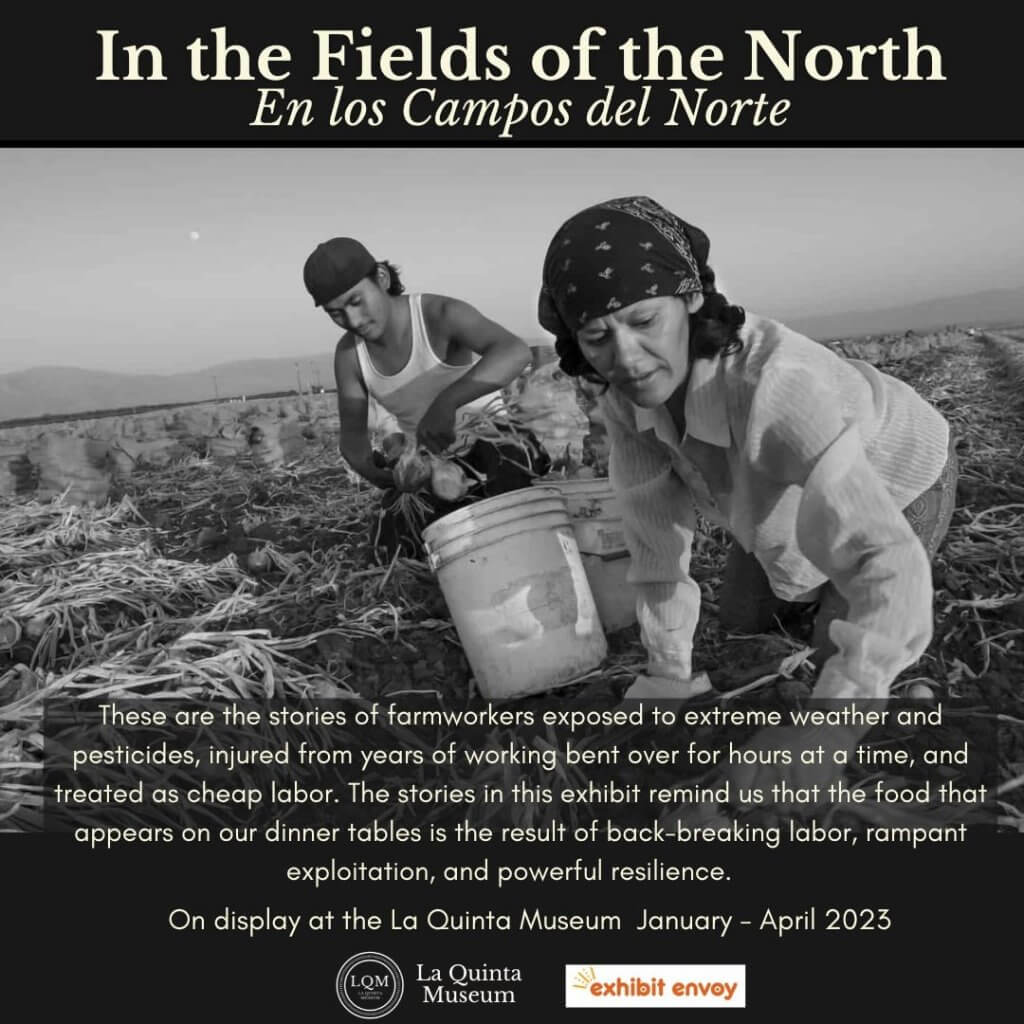 ---
The La Quinta Museum, at 77-885 Avenida Montezuma, is open 10 a.m. to 4 p.m. Tuesday through Saturday.
Admission is free.
For more about the museum, its exhibits, concerts and other events and programs, visit www.playinlaquinta.com or check out the La Quinta Museum's Facebook page.