Home Hosting for the La Quinta Arts Festival
December 10, 2013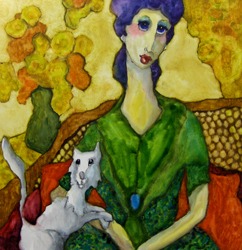 The Art of Making Friends through Home Hosting at La Quinta Arts Festival
La Quinta Arts Festival's Home Host program is little known by the public, but highly valued by the grateful artists that reap its benefits. Home Hosting offers a group of select artists the rare opportunity to defray costs while experiencing some good old fashioned Coachella Valley hospitality.
Utilizing stringent Home Hosting criteria, La Quinta Arts Foundation staff carefully pairs artists with patrons who open their homes, guest houses and casitas to them during "Festival Week," a time when the Valley is at capacity for hotel rooms. First time exhibitors and those traveling long distances to participate are given first dibs for the much in demand program.
The benefits of Home Hosting extend to so many levels: Providing emerging artists and those new to the show a means to travel long distances without the added expense of hotels; giving the hosts an "Up Close and Personal" experience with professional artists; and adding another avenue in which to recruit new talent to La Quinta Arts Festival.
The Home Host post interviews often bring to light an array of unusual and surprising personal interest stories, some revealing lifelong friendships that are forged between artist and host. One of those is recounted by Georgia artist Tom Barnes, in which he refers to his home hosts Bill and Denise Zolbert. Tom's heartfelt testimonial instantly turned into an entire article that we consequently titled, and are sharing here:
Making Friends through Home Hosting
By Tom Barnes
How do strangers become friends? For the Zolberts and the Barnes, the story begins with an art fair in Southern California and a painting of two long-neck ladies at a café table.
Twelve years ago the first art show I did on the national scene was La Quinta Arts Festival. Like all artists I set up my booth, displayed my work, and waited. Sometime during the Sunday afternoon shopping surge, a couple came in and began to ask about these Ladies. They were delighted at the attitudes and ambiance. I was delighted with their interest. They left only to return few hours later to purchase "Bess and Lila."
The next year, I met them again on their stroll through the park and made dinner plans at their home. Another year passed and they returned to buy another, and then another and then they threw a "meet and greet" in their home for some of their close friends. And sometime in our first few years of transactions, Denise extended an invitation to stay in the casita adjoining their home. Of course by now, we were conversant on our experiences and interests and though I have never whacked a golf ball in my life and Bill is an expert, we did find we both had crooked senses of humor.
Denise is so much "mother earth" there was never a moment of discomfort. Today, after nine more years of the festival and weeks of sharing breakfasts and dinners, after meeting the kids and grand-kids, the moms and dads, we are devoted friends. And both Denise and Bill have their duties. Bill has learned to wrap paintings make me a list of his favorite last reads. Denise has learned how to charge the sale and what ice cream I kill for. All I have had to learn is how to relax and enjoy it all!
We commiserate over surgeries, kids lives, the cost of living, and our spiritual well-being. We laugh a lot and we've shed a few tears too. This year Bill and Denise shared with me their photos of aboriginal art in the Melbourne National Gallery. The images arrested me. I had been experimenting with shapes and dots and lines in my newest floral paintings. From that sharing, I have since ordered volumes on the history and style of Australian art and am making a concerted effort at learning this little-know art form.
The Zolberts have expanded my world, given me inspiration for creating, and helped direct my latest adventures in experimental art! How's that for host family influence? I sell a lot of art at the La Quinta show. But today that's not the only reason I make the 40-hour drive out. I know that before I've even checked in and gotten my booth assignment, I will have walked into the Zolberts home, gotten hugs all around, and settled into a place where warm hospitality abounds and where two of my long-neck ladies still hang over the fireplace.
Make friends with Tom Barnes at La Quinta Arts Festival, March 6-10, 2014 at La Quinta Civic Center Campus.
Those who have an interest in home hosting a La Quinta Arts Festival artist should contact Debby Nelson, Volunteer Coordinator at 760-564-1244 x 106 or email Debby@LQAF.com.