National Take a Walk in the Park Day
March 30, 2023
If you have been looking for an excuse to go outside for some exercise, soak up some sun and take in La Quinta's incomparable views of the mountains, maybe National Take a Walk in the Park Day on Thursday, March 30, will offer some added inspiration.
La Quinta has more than a dozen parks throughout the city, each with different amenities, including playgrounds, picnic tables, and benches. All are pet-friendly, but be sure your dog, cat or rabbit is on a leash.
The following parks have walking paths:
Civic Center Campus: A walking path circles this 17.5-acre park adjacent to City Hall, the library, and Wellness Center, and includes a pond inhabited by a variety of ducks and fish, a gazebo, benches and picnic tables, public art, restrooms, one of the best views of the mountains and more.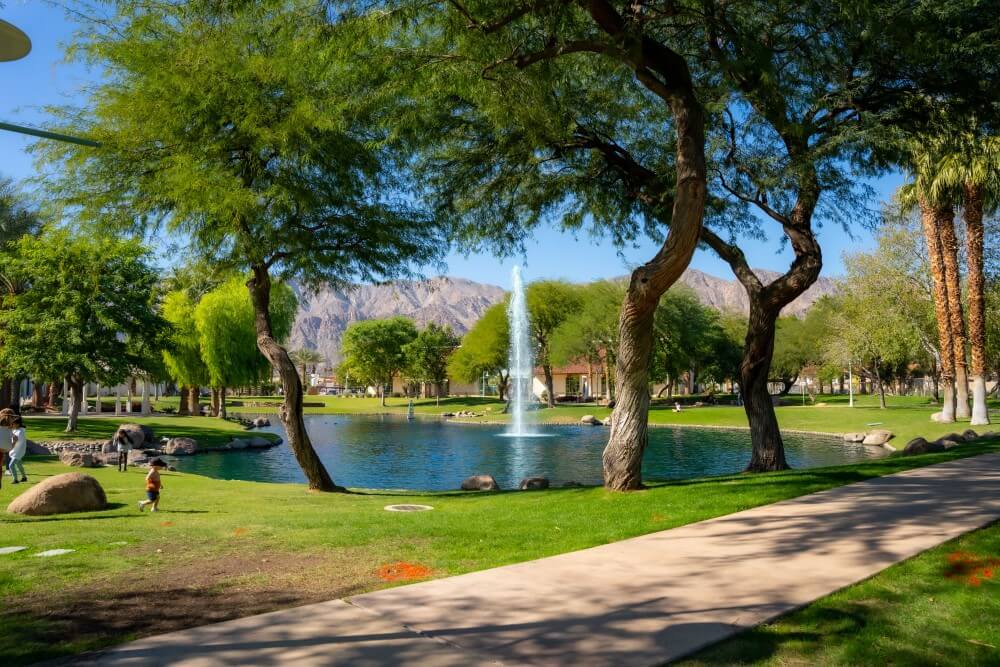 SilverRock Park: One of the city's newest parks, this 14-acre venue is located off SilverRock Drive across from the SilverRock golf course, includes a walking path, lake and stream, amphitheater, restrooms, and an event building all set against the Santa Rosa Mountains.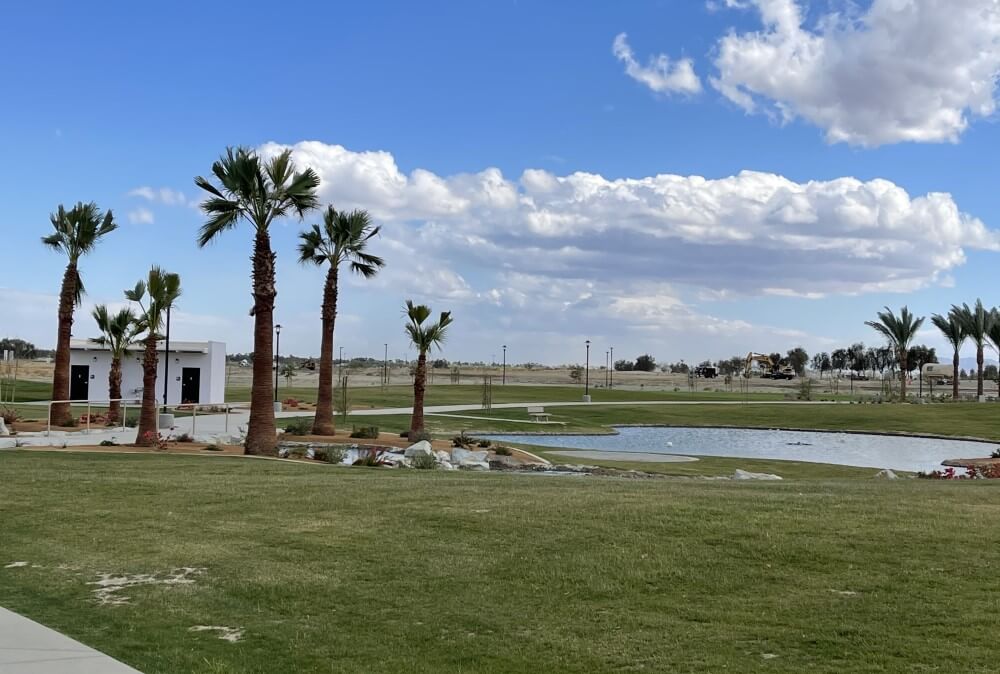 La Quinta Park: In addition to a walking path, this 18-acre park on the northeast corner of Adams Street and Blackhawk Way includes a playground, barbecues, picnic tables, restrooms, ball fields, public art and more.A new splash pad is under construction and scheduled to open in mid-June.
Cove Oasis: At the top of the cove, off Calle Tecate, you will find walking paths and hiking trails that lead to beautiful views of La Quinta and the Coachella Valley. There is also a picnic area with tables.
Adams: This community park on La Palma Drive and Adams Street also includes a playground, sand volleyball, picnic tables and more.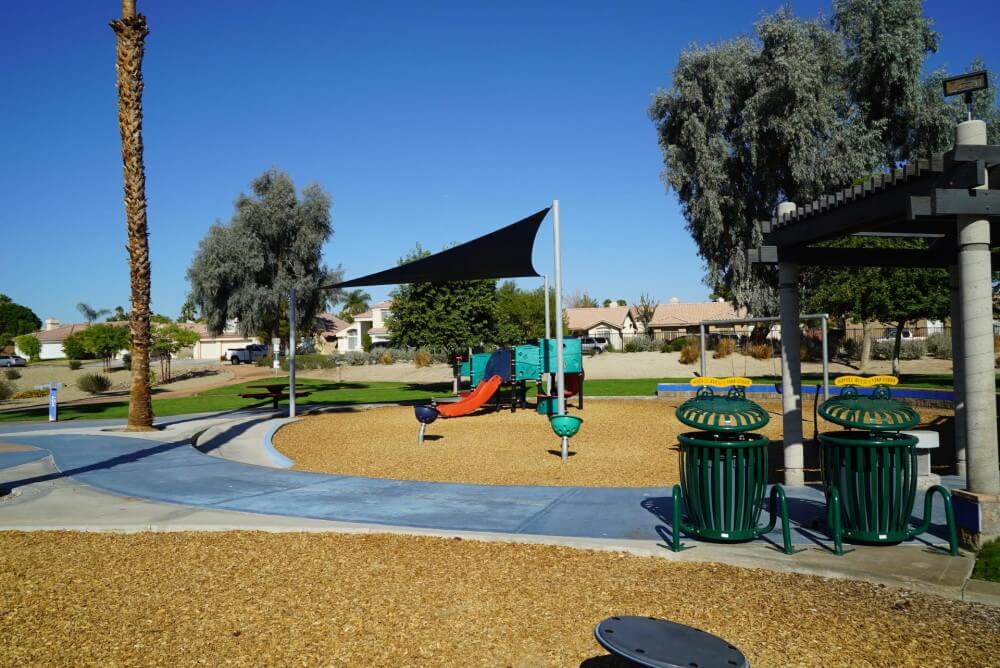 Desert Pride: This park on Birchcrest Circle also includes a playground, picnic tables and public art.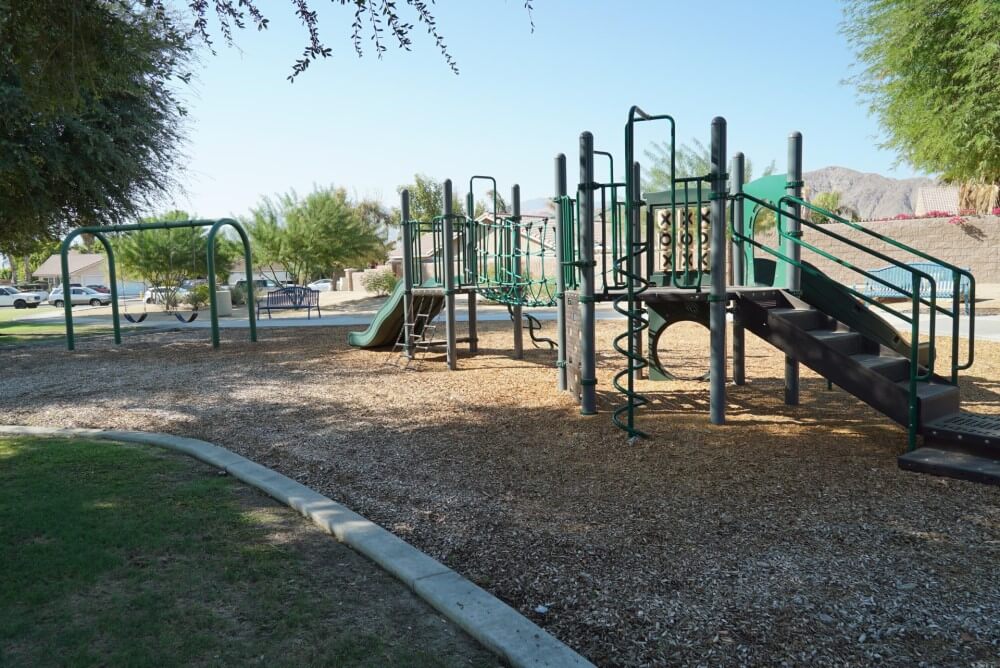 Fred Wolff Nature Preserve: Access to the preserve, named for the City of La Quinta's first mayor, is off Avenida Madero. The preserve is adjacent to Bear Creek Trail and includes picnic tables.
Playgrounds for dogs and more
These three parks have playgrounds just for dogs:
Fritz Burns: On the corner of Avenue 52 and Avenida Bermuda, this 12-acre park is also home to the city's only community swim center, a skate park, pickleball and tennis courts, picnic tables, barbecues, restrooms and more.
Pioneer: Located on Seeley Drive off Miles Avenue, this park also includes a playground and picnic tables.
Seasons: This park, at 78296 Cloud View Way, also includes picnic tables and a playground.
There are several more parks with playgrounds, picnic tables and other amenities as well as plenty of room to run around or take a stroll.
Included in the list is the X Park competition level skate park with multiple bowls, street course, pump track and other features for beginner, advanced and professional users. The city's newest park, on Dune Palms Road across from La Quinta High School, includes a pro shop, seating area for viewers and restrooms.
So, grab your furry friend – don't forget the leash – some water or coffee, kids or friends and take a stroll around one of La Quinta's parks, not just on National Take a Walk in the Park Day, but any day. More information about La Quinta parks, their locations and hours can be found at www.laquintaca.gov.