Top 5 Hikes in La Quinta
February 13, 2020
Are you ready to cross unique hiking trails off your bucket list this year? If so, we've developed the perfect list of trails for you. Hiking in the desert can be a rewarding experience if you find the right trails to enjoy. With views of the San Jacinto mountains, the city of La Quinta offers great trails to experience beautiful scenery and unique wildlife.
Bear Creek Canyon Trail Photo credit: All Trails User
The Bear Creek Canyon Trail is an 8.3-mile offering a number of activity options. The trail is open year-round to all skill levels but is rated as difficult. The trail starts off relatively flat and ends at an elevation of roughly 2,319 ft. There are great views from low to high line of sight and the trail is best enjoyed during fall and winter months.
La Quinta Cove to Lake Cahuilla Photo credit: Murray Smith
This spectacular hike runs through the PGA West Golf Course and ends at Lake Cahuilla. The elevation gain from this hike is 915 ft and is 6.6. miles long. This hike features wildflowers and is rated as moderate. The trail offers activities such as mountain biking trails and the beautiful Lake Cahuilla where you can enjoy the view.
Boo Hoff Trail Photo credit: Gerald Bruce Harrison
Boo Hoff Trail is a 12.8-mile loop trail. This trail offers a number of activity options and is recommended to hike from September until May. The hike has an elevation gain of 2,290 ft and it is rated as a moderate. Hikers will enjoy beautiful and quiet scenery, overlooking the Santa Rosa and the San Jacinto Mountains. Be prepared for a long journey.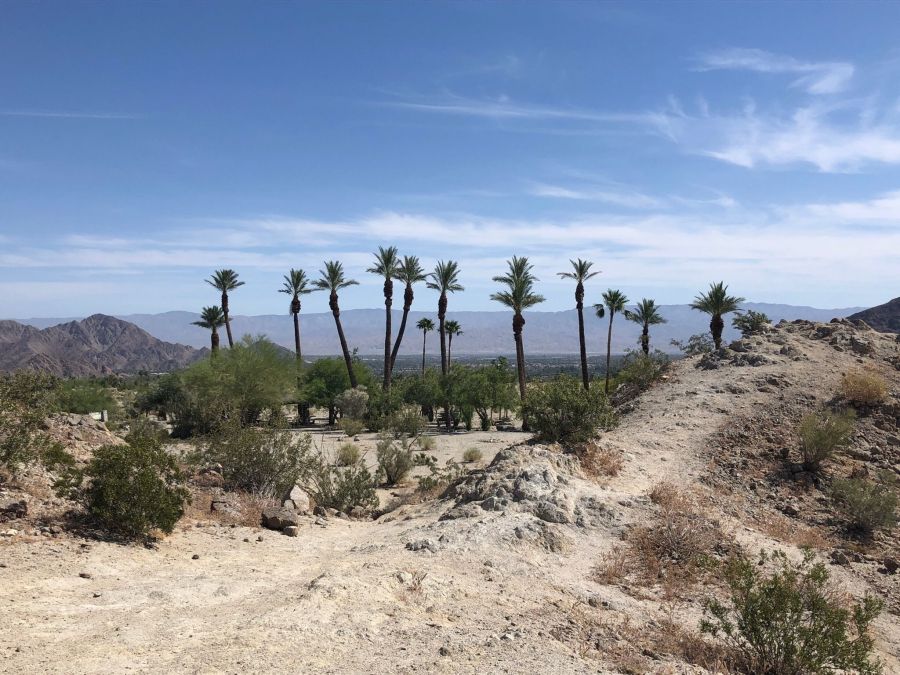 East Cove Trailhead Photo credit: Susan Jacobson 
The East Cove Trailhead is known for its dog-friendly environment with great scenery and is good for all skill levels. This trail is used for running, hiking and walking and is open year-round to the public. The trail is a short 2.1-mile hike with an elevation of 183 ft. Additionally, the trailhead provides a facility area with a shaded picnic area and drinking fountains for you and your pets.
Morrow Trail Photo credit: All Trails User                                            
Morrow Trail is a lightly trafficked back trail located in the La Quinta Cove. The trail is a 6.5-mile hike with an elevation of 961 ft. This trail is rated as moderate and offers great scenic views of the desert mountains. This trail can be used for hiking, trail running and mountain biking. It is perfect for an outdoor adventure for all ages!
—-
Considering you are in the desert, staying hydrated and wearing the right outdoor shoes is recommended when hiking these trails. If you haven't spent much time hiking in the desert and think it is just brown wasteland, you might want to re-consider taking a trip to the city of La Quinta and discover all that our desert has to offer. Visit our hiking page here for more information and our interactive hiking map.