Top 5 Things To Do This Summer in La Quinta
July 14, 2023
As we welcome the summer months, and 100+ degree weather, we tend to stay inside with the cold A/C running. However, La Quinta still offers breathtaking views, serene escapes for relaxation, and a vibrant and diverse old town charm. Here are a few ways to keep yourself moving and cool during the summer in La Quinta:
Lake Cahuilla
Fish, Hike, and Camp. As the only significant body of water in the Coachella Valley, Lake Cahuilla provides an outdoor experience like no other. Surrounded by the beautiful Santa Rosa Mountains, Lake Cahuilla is a favorite recreational spot in the scenic Coachella Valley that offers camping, fishing, picnicking, hiking trails, and you can even bring your horse trailer to go horseback riding. The lake is regularly stocked with catfish, bass, and trout to ensure you have a competitive chance of catching one.
With over 150 sites and 46 RV hookups, Lake Cahuilla is the perfect spot for both individual and group camping. Bringing your pup? All dogs must be on a leash and they cannot play or swim in the lake. However, there is plenty of space for you and your pup to explore.
Visit www.rivcoparks.org/lake-cahuilla for the lake's opening days and times.
La Quinta Resort & Club
Relax and Unwind. The La Quinta Resort & Club is the premier Coachella Valley luxury hotel resort, featuring private casitas, luxury suites, spacious villas, the world-class Spa La Quinta, three unique restaurants, five PGA West championship golf courses, tournament-quality tennis and pickleball courts, 41 climate-controlled pools, and yoga retreats. This picturesque property is sprawled across 45 acres of land with the spectacular backdrop of the iconic Santa Rosa Mountains. The historic 1920s property features adobe white casitas and Spanish style furnishings that will enhance any mood. Those visiting will experience endless flowerbeds underneath seas of palm trees and limitless opportunities for relaxation.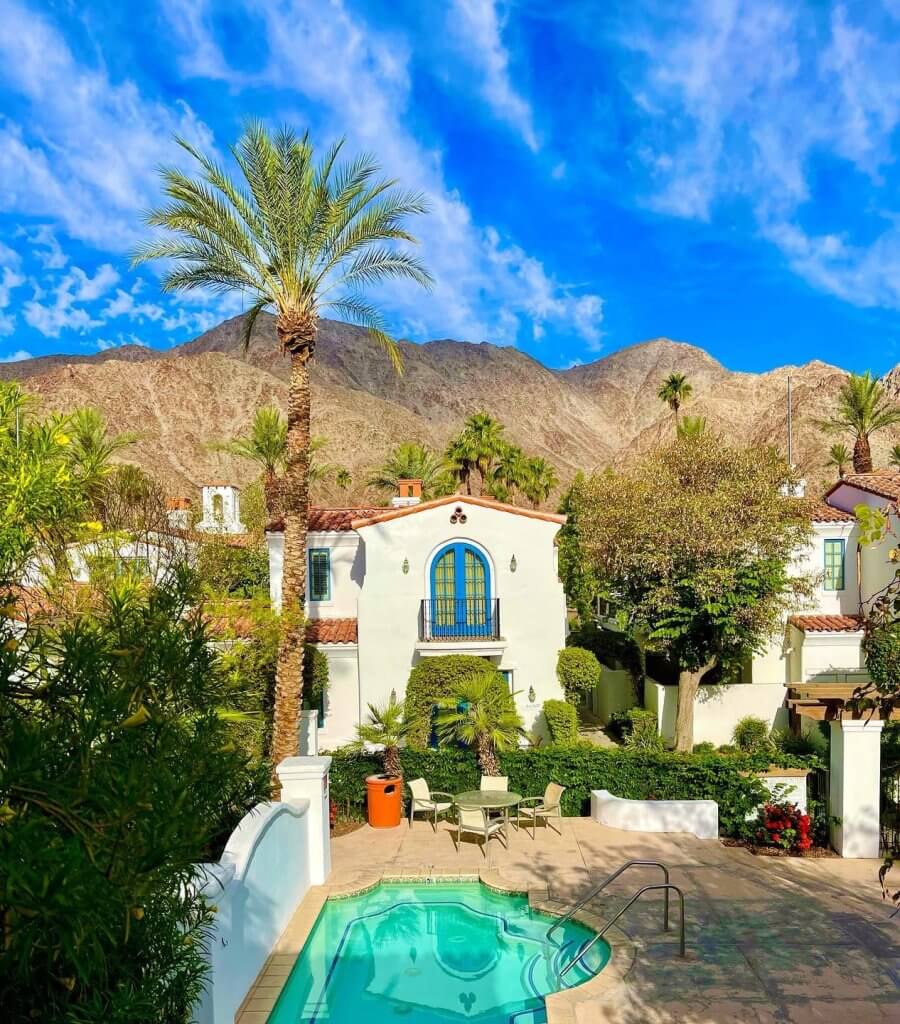 Spa La Quinta offers a variety of body treatments, skincare, and nail services using the best skincare products in the world. Massage therapy is a great way to treat yourself when stressed. Spa treatments may help you get better sleep, improve blood flow and circulation, promote radiant skin, and of course increase happiness. Bringing your pup? La Quinta Resort & Club offers the ultimate PAWS La Quinta Canine Experience with special dog-friendly, in-room and resort amenities, with plenty of open grounds to roam.
Visit the La Quinta Resort & Club at www.laquintaresort.com for availability and services.
Old Town La Quinta
Sensational Shopping and Dining Delights. Nestled at the foot of the Santa Rosa Mountains, Old Town is La Quinta's gathering place and Main Street. With its California Renaissance architectural charm and village atmosphere, there are over 30 unique cafes, shops, boutiques, salons, and services in this vibrant and beautiful setting.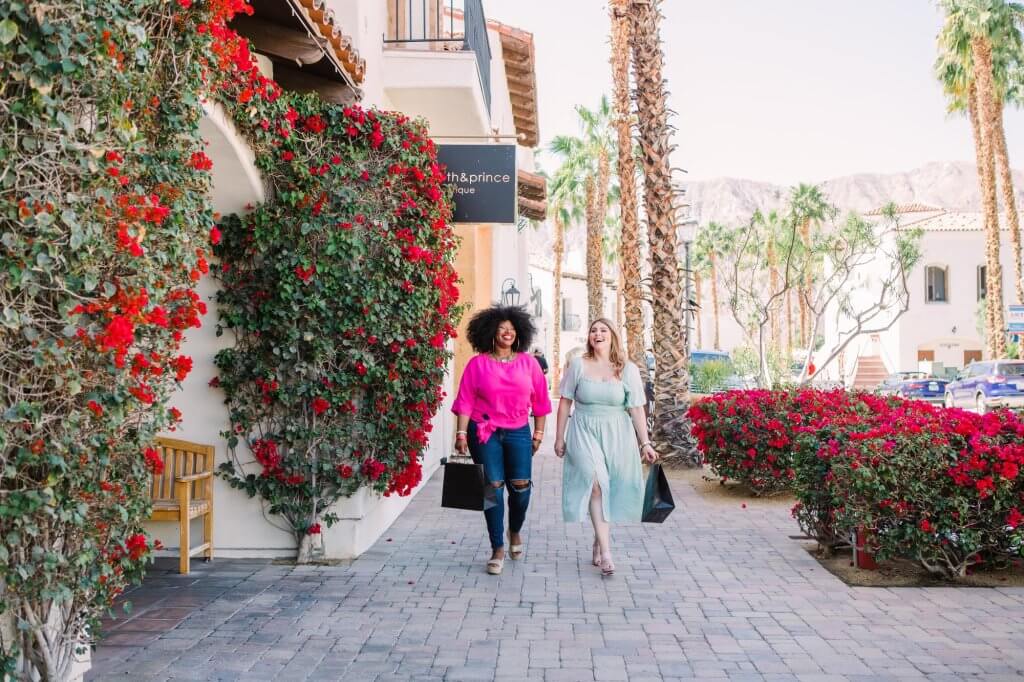 Old Town La Quinta is dedicated to local entrepreneurs, chefs, and farmers. Start your day with a freshly-baked muffin and artisan coffee. Meander through the curved streets as you pop into local shops to get out of the heat. There you will find curated bath and wellness products to pamper yourself, hand-crafted Italian olive oil and balsamic vinegar imports, and a full body and mind retreat that will relax all your senses. When your stomach grumbles, head over to any of the intimate, casual, or fine dining restaurants that offer indoor and al-fresco dining for brunch, lunch, and dinner. Most patios have ceiling fans and water misters to bring the temperature down for your comfort. Old Town has culinary options from pizza and pasta to fresh seafood, steak, tacos, and American gastronomy cuisine. Wash it all down with an elegant wine or locally brewed pint.
Visit oldtownlaquinta.com for a listing of shops, restaurants, and personal services in Old Town La Quinta.
La Quinta Museum
History and Culture. The La Quinta Museum is breathtaking in its own way with an aesthetic charm, a courtyard and stairway that seem straight out of a movie, and thoughtful exhibits to stimulate your curiosity. Inside the doors of this free museum, you will find plenty to do all summer long and at zero cost.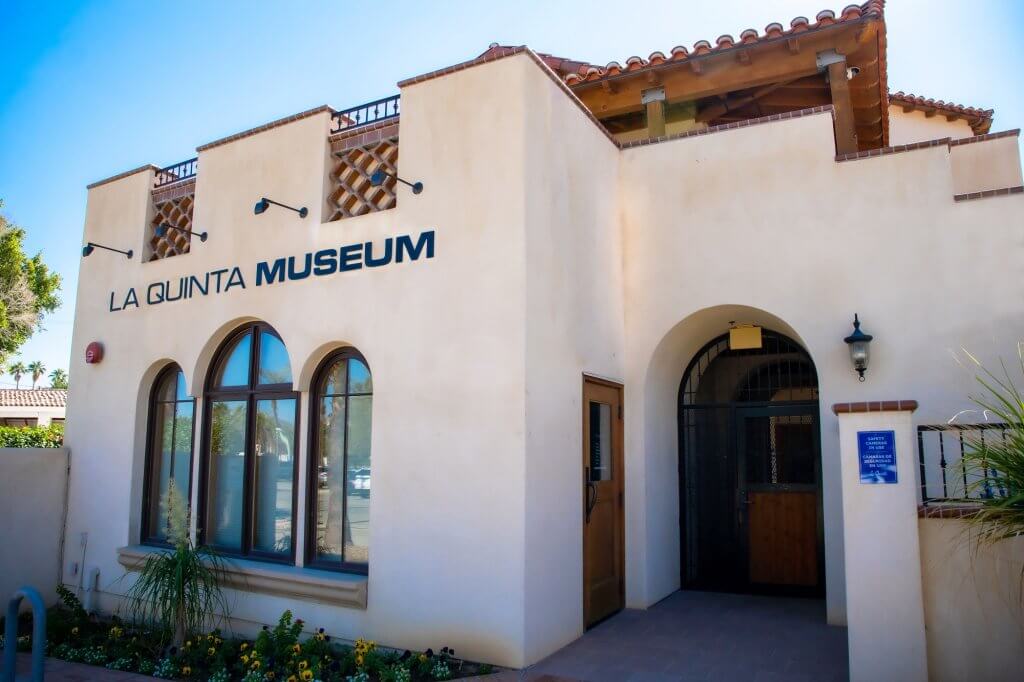 Step back in time and discover the origins of La Quinta through dioramas of a Cahuilla Indian village, native animals, and the Coachella Valley's desert landscape. Fast forward to the homesteaders, ranchers, and resort dreamers of the early 20th century that found solace and a new way of life in La Quinta. The La Quinta Hotel (now La Quinta Resort & Club) and the Desert Club attracted business tycoons and celebrities alike with their serene desert oasis escapes from the hustle and bustle of daily life. Kirk Douglas and Rita Hayworth were regulars at the Desert Club, while Frank Capra wrote the screenplays for It's a Wonderful Life and It Happened One Night at his private La Quinta Hotel casita.
In addition to the story of La Quinta, the museum also has an exhibit on how La Quinta was incorporated in 1982 as well as two revolving exhibits that feature local legends and cultural impacts significant to this region. This air-conditioned oasis is sure to keep you cool, entertained, and enlightened. Visit www.playinlaquinta.com/arts-culture/la-quinta-museum for operating days, times, exhibits, and programs.
Art in Public Places
Active Art Community and Venue. Over the years, La Quinta has morphed into a prestigious art town. The City hosts the semi-annual La Quinta Art Celebration, which is held in March and November on Civic Center Campus. The La Quinta Art Celebration combines jury-selected artists and their original artworks from across the country and world, enthusiastic art patrons, and unsurpassed community support and event staff to bring a VIP art show experience to all. The event was selected as the #1 Fine Art and Fine Craft Art Event in the nation in 2022 by Art Fair SourceBook and recently won Southwest Art's Favorite Outdoor Art Festival in 2023.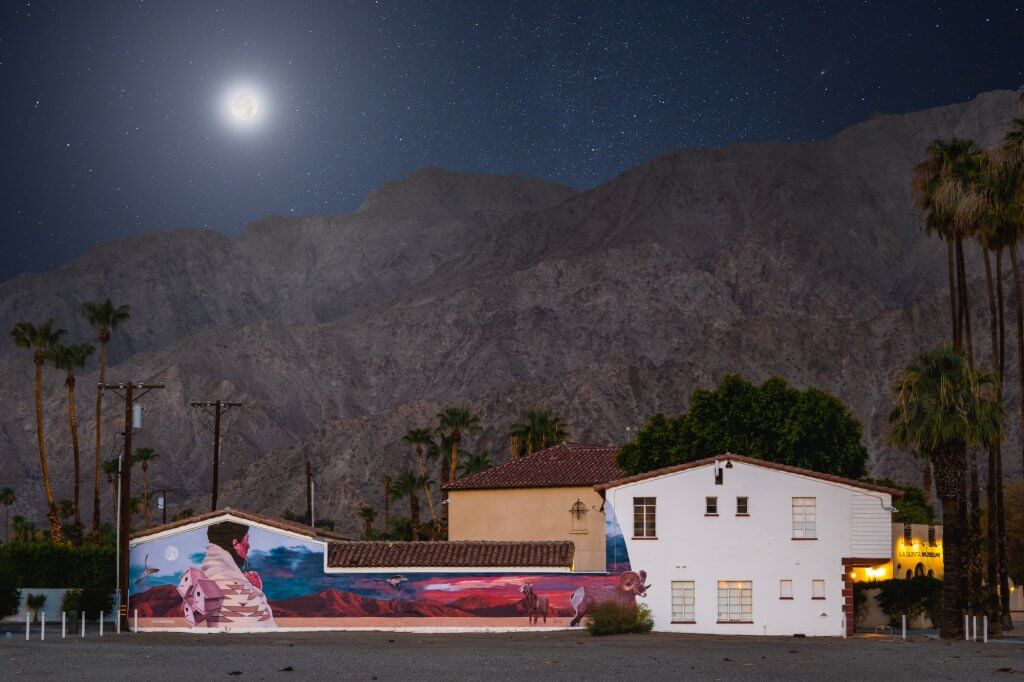 La Quinta has accumulated many original pieces of art over the years and showcases them throughout the City with their Art in Public Places program. Looking for awe-inspiring murals to get that selfie post? There are six murals to choose from including Bird Song, Bloom, and Hydra. How about a unique piece that pops out from a roundabout or street corner? Make sure to check out Desert Legacy, Roadrunner, and Andalusian Horse and Rider. There are also many art pieces inside City facilities at City Hall, the Wellness Center, and the La Quinta Public Library.
The City created a folding pocket map of all public artworks and their locations. See if you can find them all! Visit www.playinlaquinta.com/art-fifth for more information.
With all of these great options to keep cool, don't forget to take a peek out the window and catch another glimpse of those one-of-a-kind views!