Creation Station's Maker Craft Programs
January 30, 2023
Create miniature billboards that light up with your own special message or make a top hat, brooch or lapel pin at Maker Craft programs offered in February at the Creation Station at the La Quinta Library.
"Ant Man's Billboards" on Saturday, February 4, offers all ages the opportunity to create a small lighted billboard with serious to funny messages or an advertisement for a made-up business or product.
On Thursday, February 9, a visit to Professor Verne's corner will give you skills to make a mini top hat while at Miss Ada's studio you can learn to make a clockwork brooch or lapel pen inspired by Steampunk literature.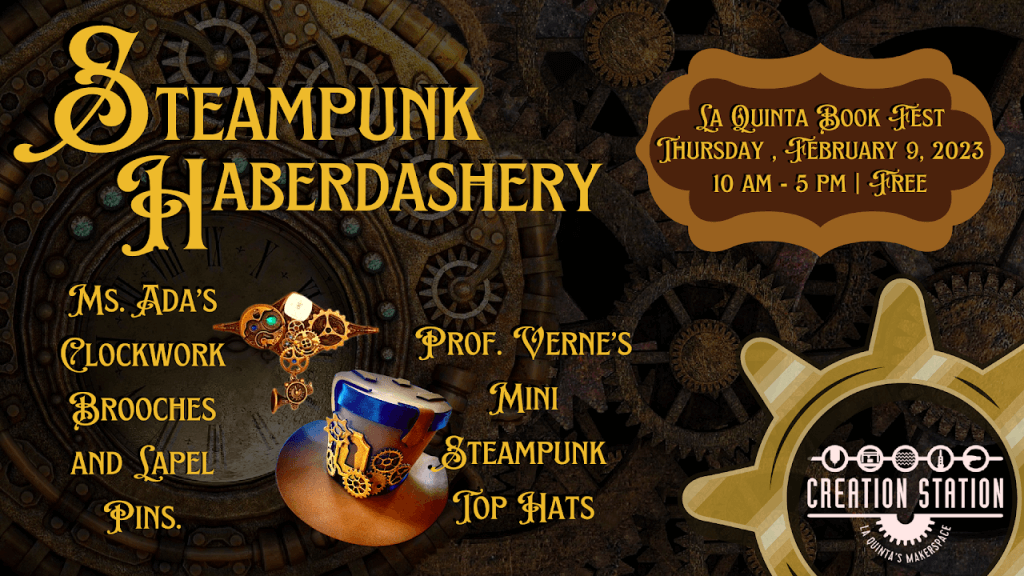 The "Steampunk Haberdashery" is open to all ages but is recommended for 6 years and older. This program ties into the La Quinta Book Fest, February 6-11 at the La Quinta Library.
"Ant Man's Billboards" and "Steampunk Haberdashery" are free. Both programs are scheduled to be held from 10 a.m. to 5 p.m., or while supplies last.
Creation Station is a membership-based MakerSpace program offered in partnership with the City of La Quinta and the Riverside County Library System. The program is inside the La Quinta Public Library and is for hobbyists, students, and educators. Classes and workstations for 3-D printing, laser cutting, computer aided design (CAD), electronics components and soldering, sewing, hand tools and more.
---
For more information about Maker Craft and MakerSpace programs and events, Creation Station and the La Quinta Library, visit www.PlayInLaQuinta.com, email lqmakerspace@laquintaca.gov or call (760) 777-7088.