LQ Blackhawks Find New Leader in Alumnus Patrick Rivenes
September 5, 2018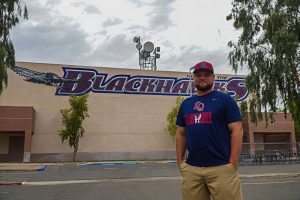 La Quinta native and celebrated Blackhawk player Patrick Rivenes has been selected to take over the Head Varsity Football Coach position at La Quinta High School this season, marking the first change in leadership the team has seen since the school opened in 1994.
Rivenes will replace long-time head coach Dan Armstrong, who grew the program into a force to be reckoned with over his long and illustrious career. In his 23 years with the Blackhawks, Armstrong lead the team to two CIF Championships, 10 league titles, and 174 wins.
These may be big shoes to fill, but Rivenes is the perfect candidate to carry on the traditions fostered by Armstrong. He's not only an accomplished player and coach, but also knows Armstrong's strategies inside and out, and for good reason: Rivenes played under Armstrong during his four years as a Blackhawk, helping the varsity team capture its second CIF championship as a sophomore and earning the MVP title in his senior year.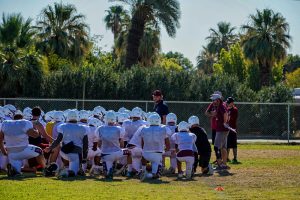 Although he left the desert to attend college, Rivenes knew he would return one day. "This has always been home to me," says Rivenes. His childhood memories of the Cove where he grew up and the mountains he fell in love with pulled him back after he graduated with a degree in Biology. Rivenes knew he wasn't going pro, so he sought out a way to stay involved in the game that had been such an important part of his life. After moving back to La Quinta, he secured a teaching position and began looking for coaching opportunities. For Rivenes, coaching was a natural fit. After all, coaching was in his blood: his father is David Rivenes, who coached for nearly twenty years and earned three CIF titles, one at St. Genevieve (1970) and two at Indio High (1970,1980).
Before long, the head coach at La Quinta's biggest rival Palm Desert High School invited Rivenes to serve as an assistant coach, where he stayed for six seasons before accepting the Head Coach position at La Quinta High earlier this year. Although he admits it was difficult to leave Palm Desert and the kids he has built relationships with there, he couldn't pass up the chance to coach the program he once played for.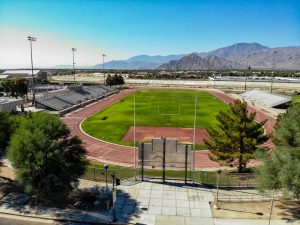 Rivenes has high hopes for his young team. "The biggest goal would be to win league" he admits, especially with the formation of the new Desert Empire League. The new league, which includes six desert high schools – Palm Desert, La Quinta, Palm Springs, Xavier Prep, Shadow Hills and Rancho Mirage – was designed to offer league members a higher level of competition, making a league title even more coveted than before. He also hopes to see La Quinta emerge victorious at this year's Victory Flag varsity football game against rival Palm Desert after last year's historic triple overtime loss. "We want to make sure we get the flag back this year," says Rivenes.
Rivenes has good reason to feel hopeful. The Blackhawks feature many players to look out for this season, such as starting mike linebacker and fullback Fred Macey, wingback and outside linebacker Grant Hertzel Russel, and safety and slot receiver Marcus McAvoy. Johnnie Lafayette, going into his Junior year, will fill the role of running back while Christian Exon will continue as the team's starting quarterback.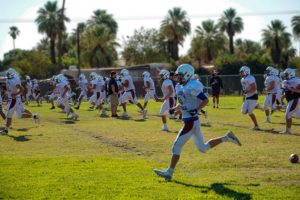 The team may not have much experience, but "the kids are picking it up quick" says Rivenes. "I'm very excited for this season and the leadership we have on the team".
No doubt all eyes will be on Rivenes as he leads the La Quinta Blackhawks into its first season without Armstrong, but one thing is for certain: it would be hard to imagine a coach better suited to take the reigns than the LQHS alumnus.