National Small Business Week
May 1, 2023
The City of La Quinta is home to about 580 brick-and-mortar businesses, roughly 70% of which are small, unique, locally-owned businesses.
La Quinta celebrates and supports its small businesses and encourages everyone to check out the different shops and restaurants, especially during the summer months when snowbirds and tourists have left.
In honor of National Small Business Week, April 30-May 6, here is a sample of the different types of new and longstanding businesses calling La Quinta home.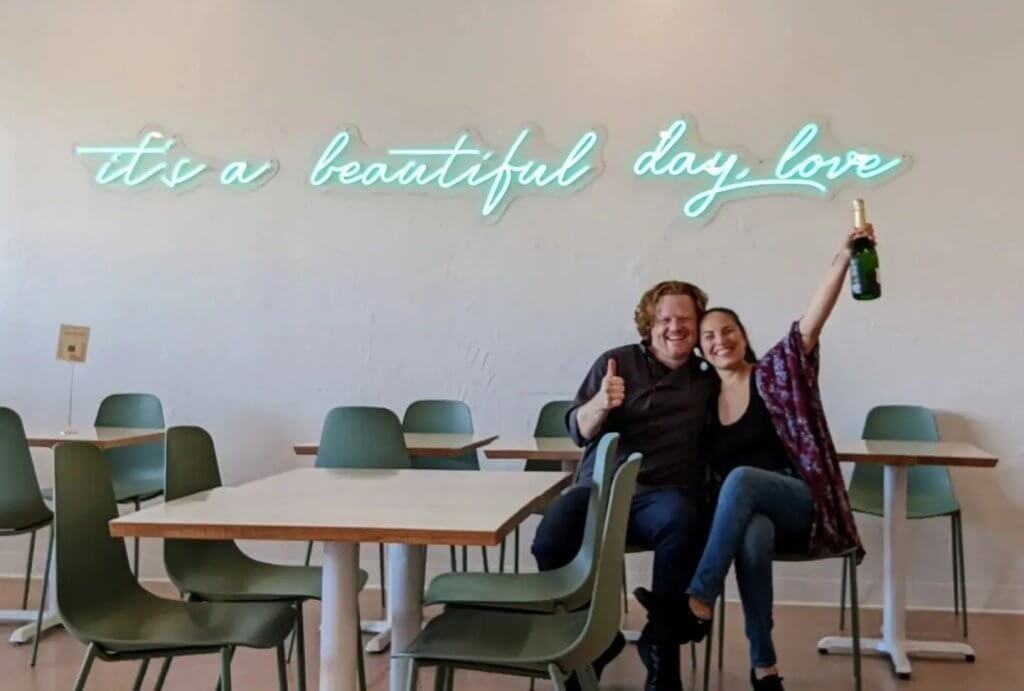 Beautiful Day restaurant
Justin and Mackenzie Jenkins opened Beautiful Day next to Grocery Outlet in the La Quinta Village shopping center just over a year ago.
They serve a farm-to-table menu of meat, vegan, vegetarian and gluten-free dishes. Everything is made to order, and they make every effort to accommodate all dietary needs and food allergies.
"We wanted a place where everyone could come" and enjoy a meal, Mackenzie said.
The menu reflects both Mackenzie, who is a vegan, and Justin who eats meat but only buys eggs, chicken and meat from farms and ranches where the animals have been humanely raised.
The two met at his Cathedral City restaurant, Justin's, when Mackenzie decided to move to the desert after her van broke down. Looking for a job, she wound up at Justin's.
The two bought a house in the cove and after closing the restaurant in Cathedral City they began their catering business. Justin had eyed the Beautiful Day location, next door to Grocery Outlet, when it was still Chapelli's Italian restaurant.
When they heard the space was available, they went to work creating a place with a positive, upbeat vibe from the remodeled interior with a brighter décor to the name, Beautiful Day.
They have been married for about four years and have a 2 ½-year-old son, River, who loves to help in the Beautiful Day kitchen, stirring ingredients.
The Jenkins love being in La Quinta where they and their new restaurant have been well received.
"Overall, the community has been very welcoming," Mackenzie said.
"It's been great. People are coming back," Justin said, adding their business has grown a lot from customers recommending Beautiful Day to their friends and family.
Menu items include griddled hotcakes topped with whipped cream and huckleberry sauce made with fresh huckleberries; breakfast burrito with farm fresh eggs that can be substituted with tofu scramble for vegans; granola bowl; and more, including Grandpa's Waffles made on the waffle iron that had belonged to Justin's grandfather.
Among the sandwich options are a Double Smashburger with Aspin Ridge beef patties, cheese, grilled onions, pickles and a special sauce on a potato bun, chicken salad sandwich, and the Roast Beet Reuben, a vegan sandwich made with roasted beet "pastrami," homemade sauerkraut and Russian dressing on sourdough bread.
"I liked to think the Roast Beet Reuben was inspired by me, a vegan Jew," Mackenzie joked.
Beautiful Day also now serves a selection of beer and wine, and there are plans to open a wine bar soon.
Beautiful Day is open 8 a.m. to 2 p.m. seven days a week, serving breakfast and lunch.
The full menu and more about Beautiful Day can be found on the restaurant's website, www.itsabeautifulday.love as well as Instagram and Facebook.
---
Art Major Studio
La Quinta resident Allie Baker, an author and mother of two children, ages 2 and 4, loves to do art with kids. But painting and all can get messy so she would prefer not to do it at home.
She came up with the idea for a studio where people of all ages and abilities could come in and be creative, and not worry about the mess. In November her idea became reality when she opened Art Major Studio next to Vons in the Plaza La Quinta shopping center.
Art Major is a place where everyone can "let loose, go for the glitter and express themselves through art."
They can spill paint and glitter and it's OK.
Baker especially wanted to create a place where kids feel creative and free to use their imaginations, but also be safe.
There are rows of shelves filled with everything needed to create a work of art – paint and brushes, glitter, glue, felt-tip pens, stencils, yarn, bows and so much more.
Things that small children could easily choke on or hurt themselves with, such as buttons and beads, are kept on top shelves they cannot reach. Everything on the lower shelves is deemed safe for all ages and kids can help themselves to it all.
Baker also has aprons so artists young and old don't leave wearing the paint.
Art Major is open for drop-ins from 11 a.m. to 5 p.m. Wednesday through Sunday, and seven days a week during the summer break when schools are closed. Cost is $25 per artist for an hour, and all supplies are provided.
There are classes and events scheduled every month, and the studio is available for birthday parties.
Kids Craft Camps are held during school breaks. Reservations are now being taken for summer camps, held 9 a.m. to 1 p.m. Monday through Friday, June 5 through August 11. Baker hires teachers to lead the camps, which are open to all ages. The kids all craft together, and the older kids are encouraged to help the younger kids.
"We call them CITs – counselors in training," Baker said.
Day and weeklong passes for summer camp sessions can be purchased online at www.artmajorstudio.com/camp or by calling or texting (760) 860-8668.
Baker opened her business in La Quinta because this is where she and her family live.
"I love La Quinta," Baker said. "I love the city and knew I wanted to stay in our community."
From the start, she has been "100% well received," Baker said.
Many parents who come in then follow Art Major Studio on Facebook and Instagram where they will give feedback and help spread the word to others.
"I come from L.A. which is very much a what can you do for me community," Baker said. "La Quinta and the Coachella Valley are very much what a can I do for you mentality which is really appreciated and paid forward."
---
Jadabug's Kids Boutique and Jadabug's Elite Repeat
In opening her first business, Baker has received a lot of guidance from fellow small business owner Heidi McArthur, whose stores Jadabug's Kids Boutique and Jadabug's Elite Repeat are just a few doors down from Art Major Studio.
Heidi McArthur bought Jadabug's about eight years ago and moved the store from the Costco shopping center to the Vons center. Five years ago, she expanded into an adjoining suite, allowing her to add to her inventory.
"La Quinta is a good place" for small businesses, she said. "The culture of La Quinta is very friendly and family oriented."
The City is small business friendly, as well, McArthur said. Getting help and permits from City Hall has always been easy, she said.
During the pandemic, the City offered grants and zero-interest loans to La Quinta's small businesses to help them stay open. She also received emailed updates regularly during the state of emergency.
"Nobody did for small businesses what the City of La Quinta did," she said.
Jadabug's Kids Boutique sells children's clothing, swimwear, shoes and sandals, stuffed animals, toys for all ages, books, games, feeding essentials including bottles, bibs and more.
McArthur carries top of the line strollers and car seats, including Nuna, Stokke and UPPAbaby.
A large selection of items, including strollers, cribs, and car seats, can also be rented.
Three doors down from the boutique, McArthur recently opened Jadabug's Elite Repeat which is run by her oldest son. The children's and maternity consignment boutique takes in clothing, cribs, strollers, toys and other items in usable and wearable condition.
When the items are sold, the customer who brought them in can collect a check or use the money as store credit. For more about this store and what can be consigned, visit www.jadabugseliterepeat.com.
Jadabug's Kids Boutique is open 9 a.m. to 4 p.m. Monday through Saturday and until 2 p.m. Sunday.
Visit www.jadabugs.com or call (760) 347-7406 or email heidi@jadabugs.com.